Day-Care at Schools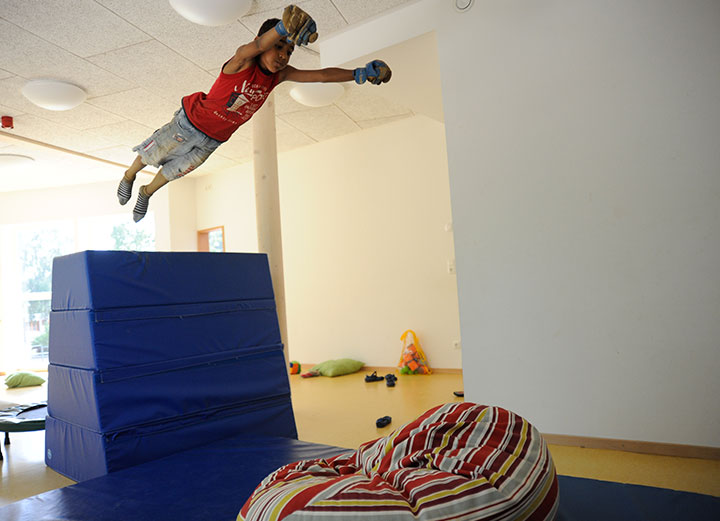 Today, many primary school pupils in Hamburg already have the possibility to receive full-day-care at their school. Starting with the school year 2013/14, the Hamburg Senate wants to offer this free full-day education and care service, called 'Ganztägige Bildung und Betreuung an Schulen - GBS' to all families. For more information on GBS, visit the City of Hamburg homepage.
Support organisations of the youth welfare service are often in charge of the afternoon care at schools. In cooperation with numerous schools, the Elbkinder also contribute to the realization of GBS. We make sure that the afternoon at school offers interesting and stimulating activities for the children and that parents can rely on a qualified day-care. Ask for cooperation locations at your school or Elbkinder day-care centre. Look for this icon in the day-care centre finder, indicating day-care at school:

Day-care at school
---
After school, most children are hungry like a wolf: In our kitchens at our GBS locations the tasty lunch for the pupils is freshly prepared every day.
With new energy, the children can now start doing their homework. At this, they are being supported by competent teachers and specially qualified freelancers. Reading, writing and arithmitic become so much easier that way…
But of course, the GBS afternoon includes much more: After studying, the girls and boys need to be active. They want to run, climb, jump, dance, balance. They need grown-ups to listen, comfort, encourage, provide tender support on their learning paths, discuss, discover talents and also to settle a dispute: our qualified teachers are there for the children as confidants. Together they develop exciting projects, take trips to the city centre, the swimming pool, the theatre – and during the holidays also to places farther away! And during all these activities, the children find new friends to play and share secrets with, to argue and make up with, to flirt with, and to support each other. Therefore, the children are often sad when the fun, exciting and cheerful afternoon is ending… But tomorrow is a new day: in the girl group, at the rock'n'roll course, on the trip to Hagenbeck, the harbour or or… ...