Outside Areas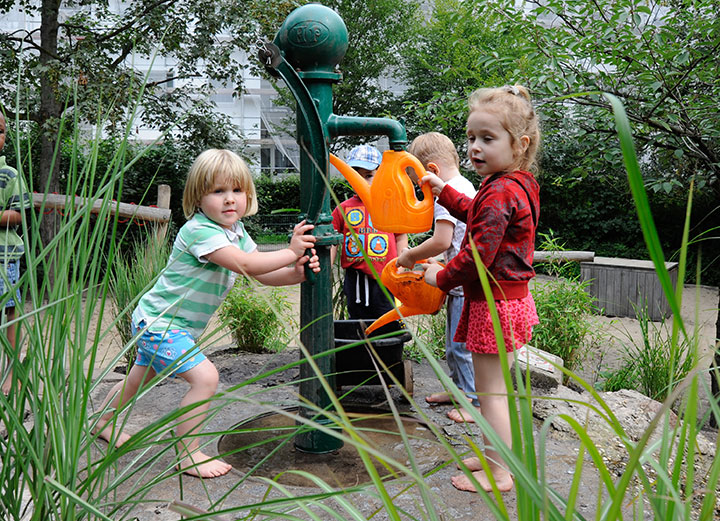 Children want and need to be active. Being forced to sit still over long periods of time would be harmful to their development. An active child, however, will steadily grow in confidence and will consequently find it easier to learn new things. This connection has been scientifically proven. Therefore, the day-care centres of the Elbkinder offer a large variety of opportunities to be active, including the excellently equipped activity rooms in the day-care centres.
Especially the outside areas of our day-care centres encourage children almost throughout the entire year to climb, play hide and seek, frolic, and to ride their bikes or scooters. Imaginative playground equipment, climbing mountains, willow tunnels or water playstations are the attractions in the outside areas.
---
Our outside areas, which are often big day-care centre parks, offer even more: the old stock of trees allows observing the change of seasons and the animal world: How can you tell that spring is near? Are the blackbirds going to breed in our park again this year? Do we maybe want to further expand our "insect hotel", which has already become the new home for many small animals?
The small gardens, created by the children with the help of our teachers, are especially popular: they grow herbs, strawberries and flowers – and even the younger girls and boys take charge of their plant. When mum and dad come to pick them up, the young gardeners proudly present the growth progress. Especially for inner-city children, these are crucial experiences. 
Our day-care centre parks are also the location for many exciting research projects – for which our day-care centres have already received numerous awards, for example within the scope of the sustainability campaign Kita21.
Our Picture Gallery gives you a brief insight into our outside areas, ranging from the park, and the garden plot up to the roof garden.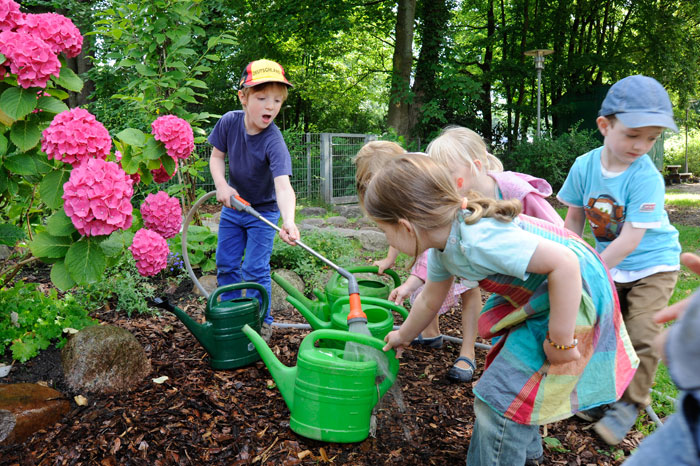 Bildergalerie Außengelände
Verschaffen Sie sich einen kleinen Einblick in unsere Außengelände, die vom Park über den Schrebergarten bis zum Dachgarten reichen.
Zur Bildergalerie